Are you seeing the 0xc00000e error code in Windows 10 during the startup?
A lot of people get frustrated when they experience this error because Windows doesn't specify in their error codes what problem occurred and what you need to do to fix it. Usually, this error occurs when a hardware component is not detected or a corrupt system file blocks Windows 10 from booting up.
In this guide, we will show you how to troubleshoot and fix the Windows 10 error code: 0xc00000e without losing your data.
What is Error Code 0xc00000e in Windows 10?
The error code 0xc00000e is a Windows 10 BSOD error that appears during the startup.
Here's what it usually says on the screen:
In simpler words, this BSOD error means that an important hardware device wasn't detected by Windows 10.
This could be some problems with an SSD or the hard drive where system files are usually stored. The error can also be triggered by a corrupt system file, which may stop Windows 10 from starting up properly.
In short, any hardware or system file failure that stops Windows 10 from locating the winload.exe (one of the files in the Windows Boot Manager) and booting up could cause this error.
How to Fix Error Code 0xc00000e?
Since the error does not point you to an actual hardware device or a missing system file, you will need to perform one or all the troubleshooting steps to fix the issue.
Use the Windows Automatic Repair Tool.
Rebuild the BCD file and the Master Boot Record.
Reset the BIOS to default settings.
Check and change the CMOS battery.
Let's start with the automatic repair first.
Method 1: Use The Windows 10 Automatic Repair Tool
You can use the native Windows Automatic Repair tool to fix Windows system errors like these. Follow the steps below to use the tool from a bootable install disc and fix the error:
To enter the Windows 10 boot menu, shut down your computer and switch it on.
As soon as the manufacturer's logo appears on the screen, press the F2 key to access the boot menu.
Once you have entered the boot menu, the first thing you need to do is change the boot options to CD/DVD Rom. You can also select boot from USB if you have a bootable USB drive.
If you don't own a CD then you can also use a USB drive to run the Windows repair. For more details, see our guide on how to create a bootable USB drive from Windows CD or how to create a bootable USB from an ISO.
Enter your Windows 10 OS CD/DVD. Restart your computer and now it will be booting from CD/DVD Rom. A message will appear on the screen 'Press any key to boot from CD or DVD'. Follow those instructions and press any key on your keyboard.
It will boot up your Windows repair/install process. For now, we are only concerned with system repair. Select your time zone, language, and keyboard input method. On the next screen, click the Repair your computer link which you will find at the lower-left corner. Next, click on Troubleshooting > Advanced options > Automatic repair.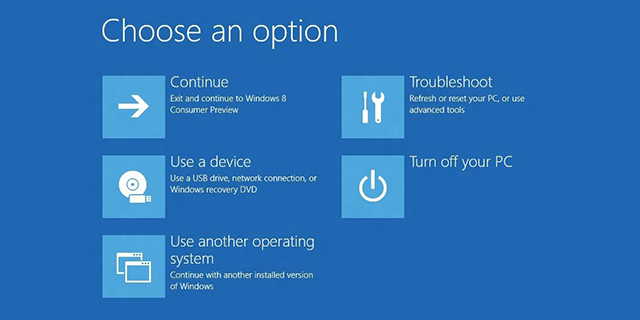 It will take a couple of minutes to repair your corrupt Windows files. The system repair option usually repairs corrupt and missing system files. However, if this method doesn't solve your problem, then move on to the next method.
Method 2: Rebuild Boot Configuration Data File in Windows 10
Boot Configuration Data or BCD is a system file that tells Windows how to boot your operating system. A corrupt BCD file could also cause a 0xc00000e error in Windows 10.
To rebuild the BCD, you can boot into Windows with the Windows installation CD or a bootable USB drive. Here's how to do it:
Boot from Windows 10 DVD or bootable USB as we did in the first method. On the Windows Setup page, select the language to install, select time zone, input method, and then select the Next button.
Click on Repair your computer (the link located on the bottom left) > Troubleshoot > select Advanced Options. Select Command Prompt.
Now type these commands one-by-one. After each command press the enter button:
bootrec /scanosbootrec /fixmbrbootrect /fixbootbootrec /rebuildbcd
Bootrec or bootrec.exe is a tool provided by Microsoft. It is used to troubleshoot and fix boot problems in the Windows recovery environment.
bootrec /fixmbrr: You can use this command to fix MBR (Master Boot Record) corruption issues. It writes a Windows 10 compatible MBR to the system partition.
bootrec /fixboot: This command will write a new boot sector to the system partition.
bootrec /scanosS: When you run this command it will scan all disk partitions for a Windows installation.
bootrec /rebuildbcd: This command will scan all disks for installation that are compatible with your OS. Also, it will allow you to select the installations that you want to add to the BCD (Boot Configuration Data).
Now restart your computer and check if the issue is fixed. If not then follow the next method.
Method 3: BIOS/UEFI Configuration Reset
This error could also occur because of misconfiguration of the BIOS. You can resolve it by resetting the BIOS configuration.
Restart your computer and wait for the manufacturer's logo to show up, then to access BIOS settings press either of these keys F2, F12, Esc, Del, whichever works according to your manufacturer. If you are not sure which keys you should press to access BIOS on your device then use Google to see how you can access BIOS on your particular PC brand.
Use the arrow keys on the keyboard to navigate the options in the BIOS. Find the default option of the BIOS setup. Click on this option and press the Enter button on your keyboard to reset the BIOS configuration.
Save and exit BIOS by pressing F10 or use arrow keys to manually exit the BIOS. When you exit, your device restarts automatically.
Method 4: Replace the CMOS Battery
If your BIOS date and time are misconfigured then you might want to replace the CMOS battery. CMOS is a chip on your motherboard that stores the BIOS configuration, date, time, and other information. This information includes system time and date, and some hardware settings.
The CMOS battery powers the BIOS firmware in your device. BIOS always needs to remain operational even when your device is not plugged into a power source. When a device is unplugged from a power source, BIOS relies on the CMOS battery for the power.
Once you have replaced the CMOS battery then you should reconfigure BIOS settings and reboot your PC.
If Nothing Works, Reinstall Windows 10
If none of the above methods fix your problem then you have the last option which is reinstalling your Windows 10. A fresh Windows installation can solve errors like these when you cannot troubleshoot it any other way.
Before installing Windows on your computer, you must backup all your important information so that you don't accidentally lose it.
Read more: makeuseof.com